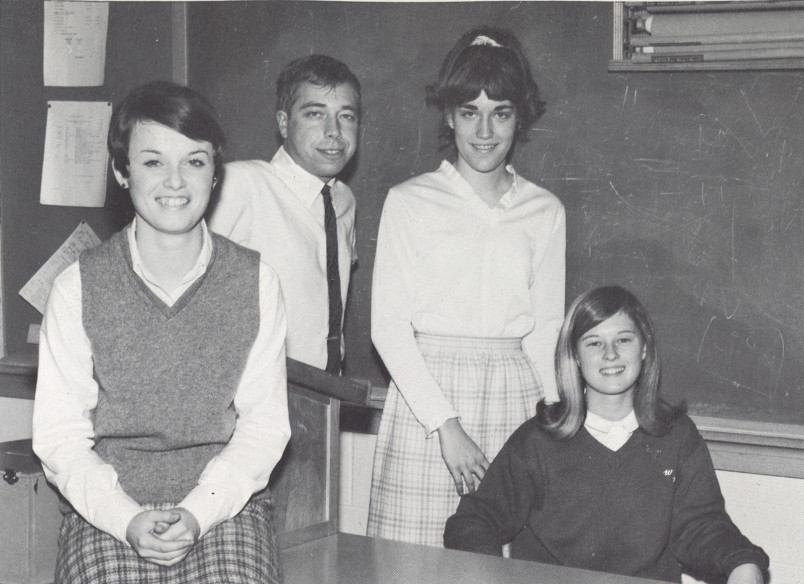 Officers: Linda Jensen, Vice President; Mr. Cooper, Sponsor; Anne Hildebrand, Secretary-Treasurer; Judy Gasquoine, President.
Student Council has been very busy this year working and serving others besides their usual activities. They strived and reached their goal this year of $1,000.00 to build a school in Iran through the Peace Corps. November 18-22 was declared "Citizenship Week". Student Council held a Salvation Army clothing drive and sold tags to buy Thanksgiving Day dinner for a needy family. During the Christmas season they promoted a campaign to "Send a card to a soldier in Vietnam." Student Council members took candy, gifts, and good cheer to the Bethany Home in Hammond. Council is going to send a check annually to support the Bethany Home.
Once again Student Council sponsored the T.F.S. Homecoming, assemblies, and Follies. "Up, Up, & Away", the 1969 Fractional Follies brings back many happy memories. The computer dance may have found your "ideal date." Student Council hosted a S.E.S.C. Student Council Exchange Day in February.

Caption on p030:
STUDENT COUNCIL PROJECTS BENEFIT MANY.