T.F.S. 25th REUNION - CLASS OF 1971
This Reunion Was August 10th, 1996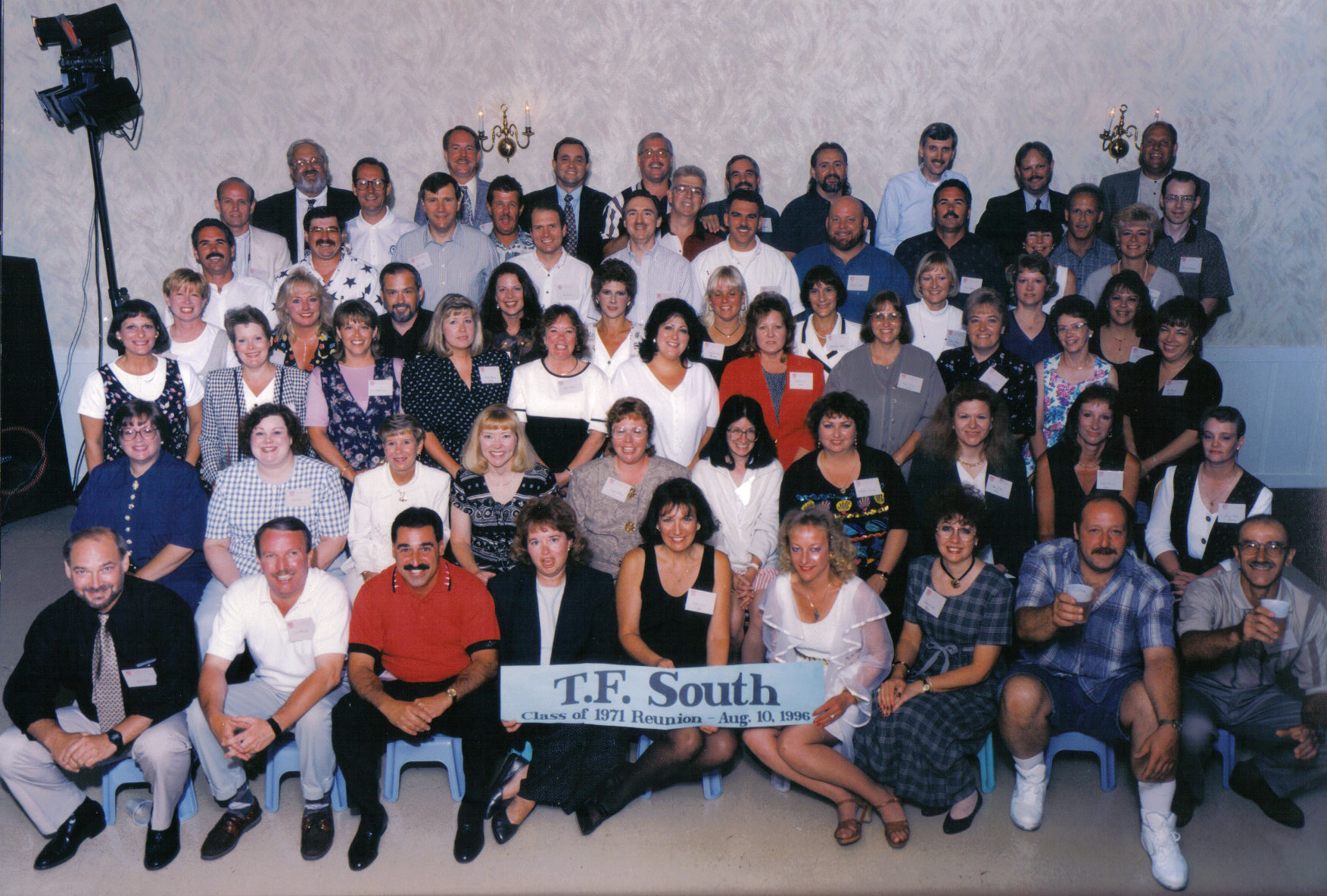 The faces in this photo have been tagged. Just wave your mouse over a face to see who it is. Still need help with two names.

ROW ONE: Rick Todd, Scott Malcom, Mike Manno, Lynda Willer, Debbie Bauer, Diane Galanis, Felisha Cossler, Bill Cwetna, Egon Zimmerman.

ROW TWO: Joyce Yauger, Barb Bogus, Shirlee Martine, Nancy Carlson, Debbie Watson, Linda VanDrie, Kathy Kennedy, Alice Zroka, ----, Joanne Bailey.

ROW THREE: Barb Smirniotis, Janet Darlington, Pam Mills, Debbie Mazan, ?Anita Smith?, Sabena Ramanna, ?Darlene Broza?, Mary Ann Anhalt, Diane Labahn, Cynthia Schroeter, Janice Waugh.

ROW FOUR: Peggy Jensen, Kyle Farley, Jerry Webb, Jan Ambry, Francine Fritz, Carol Deichen, Pam Rach, Karen Krygier, Marilyn Ditter, Sherry Orban.

ROW FIVE: Tim Hektoen, Jim Klebs, Don Olsen, Tom Gosciej, Don Zebrauskas, Bill Hastings, Rich Kelley, Terry Hektoen, Edith Ann Marich, Ron Snyder, Joyce Scheidt, David Schumann.

ROW SIX: Vernon Werner, Doug Finney, Rich Parker, Rick Stinson, Dave Kaszak, Ted Cable, Larry Mlynarcik, Jeff Keister, Bill Albrecht, Bob Robertson, Tim Nowaczyk, Craig Walker, Scott Highland.

---
Yearbook Home | Reunion Index | Main Reunion Page | 2011 Reunion | 2006 Reunion | 2001 Reunion | 1991a Reunion | 1991b Reunion