1969 Latin & Russian Club TFS Postscript Yearbook p040
Varsity Debate | National Forensic League | Spanish Club | Russian & Latin Club PDF | German & Russian Club | French Club | Science Club


Latin Club: First Row: Bill Banet. Felisha Cossler. David Banet. Second Row: Suzette Panger, Paul McVicker, Pat DiFilippo, Pam Mills. Back Row: Pat Banet, Nancy Goranowski, Rosemary Wank. Art Banet, Tom Sailor, Jean Duzek, Joan Meilleur, Karen Krygier. Barb Sroka, Chris Markiewicz, Jayme Rice, Larry Peres.
Movies, lectures, parties, and the most important activity in any club, the field trip, filled the year of T F South language clubs. Participation was excellent in all organizations and the members agreed that interest was exceptional. An epidemic of underground newspapers emerged overnight and stayed all year. The advent of the newspapers showed a new spirit of South students in their language clubs. The highlight of the year was the Christmas season when all the language clubs combined their efforts for the second annual International Christmas Party.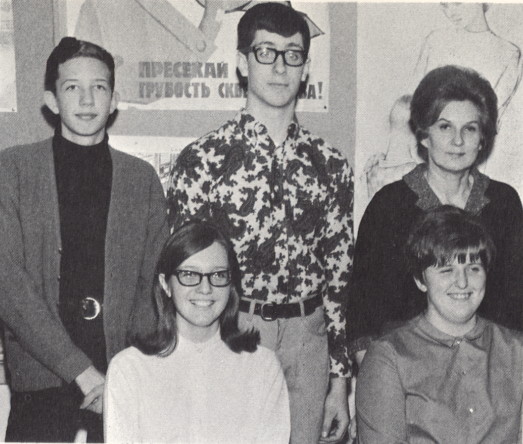 Russian Club Officers: Seated: Chris Moeller, Vice-President; Linda Brennan, President. Standing: David Victor, Secretary; Glen Cox, Treasurer; Mrs. Whyte, Sponsor.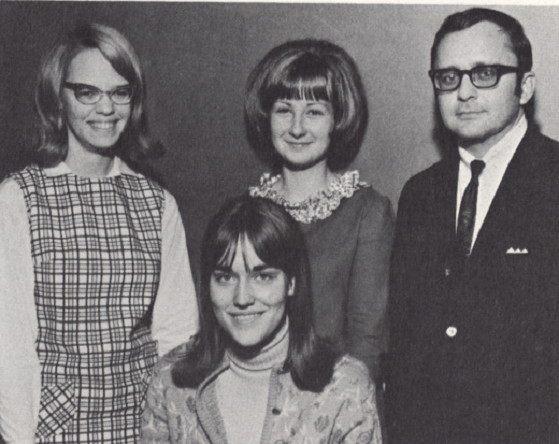 Latin Club Officers: Seated: Anne Hildebrand, Vice-President. Standing: Thelma McKechnie, Secretary; Carol Bobic, Treasurer; Mr. Benedict Gulassa, Sponsor. Not pictured: Pat Sartini. President.

Caption on p040: