1969 Speech and Debate TFS Postscript Yearbook p036
Girls Club Board Members | Dramatics Club | National Thespian Society | Speech and Debate PDF | Varsity Debate | National Forensic League | Spanish Club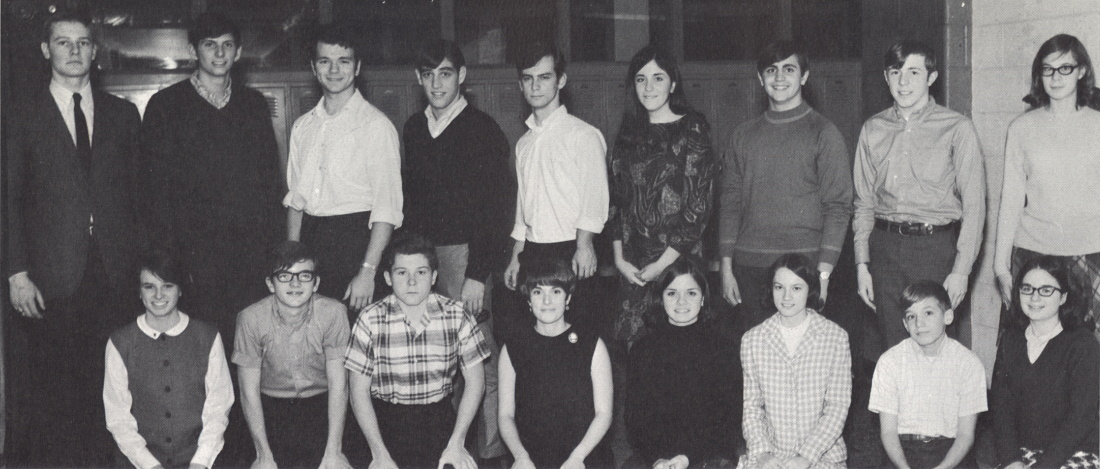 Kunka Kids: Kneeling: Marilou Van Laningham, Ron Relic, Jim Pienkowski, Marilyn Rea, Melinda Stinnet, Kathy Baker, John Van Drie, Linda Wilier. Standing: Harry Smith, Bill Conley, Frank Mazzocco, Jerry Fritz, Jack Wiers, Teri Pasquerella, Joe Schmitz, Tom Ross, Debbie Sowinski.
Sixty-nine was a year of firsts for both Debate and Speech. Trophies added up as Rebels chalked up the victories and team spirit soared. At the SESC meet, South took all the trophies except one. This year, South has two state qualifiers. Senior Jerry Fritz went in original monologue and Sophomore Marilou Van Laningham went in original oration. The Varsity Debate team of Chris Wiedman, Ron Doeve, Jan Dillon, and Ron Schultz won great honors this year. An experienced team will return next year because only one of the four is graduating this spring. For the first time, South had enough participants to have two speech teams. The Kunkas success is mainly attributed to hours of hard work. With a lot of underclass talent, they are looking for bigger and better years to come.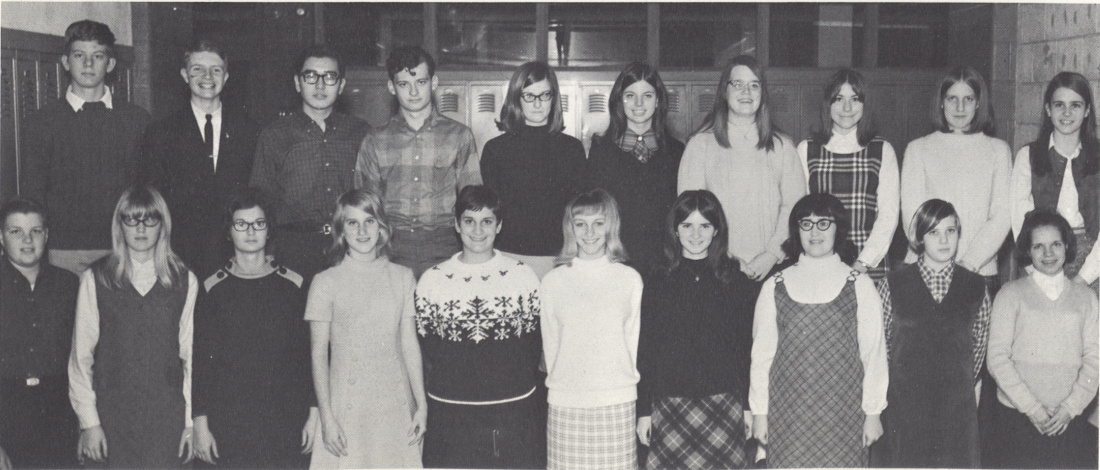 Duces: Kneeling: Art Wiers. Carol Mageral, Sally Sumpter, Darlene Clausius, Barb Smirniotis. Diane Galanis, Joyce Yellina, Maris Napoli, Brenda Moore, Sheila Elias. Standing: Neal Haught, Mike Wallace. Ted Schultz, Brent Brinkman, Carla Simpson, Janet Ambry, Kathy Johnson, Nancy King. Sue Marsteller, Suzy Klucher.