1969 National Thespian Society TFS Postscript Yearbook p035
Girls Club | Girls Club Board Members | Dramatics Club | National Thespian Society PDF | Speech and Debate | Varsity Debate | National Forensic League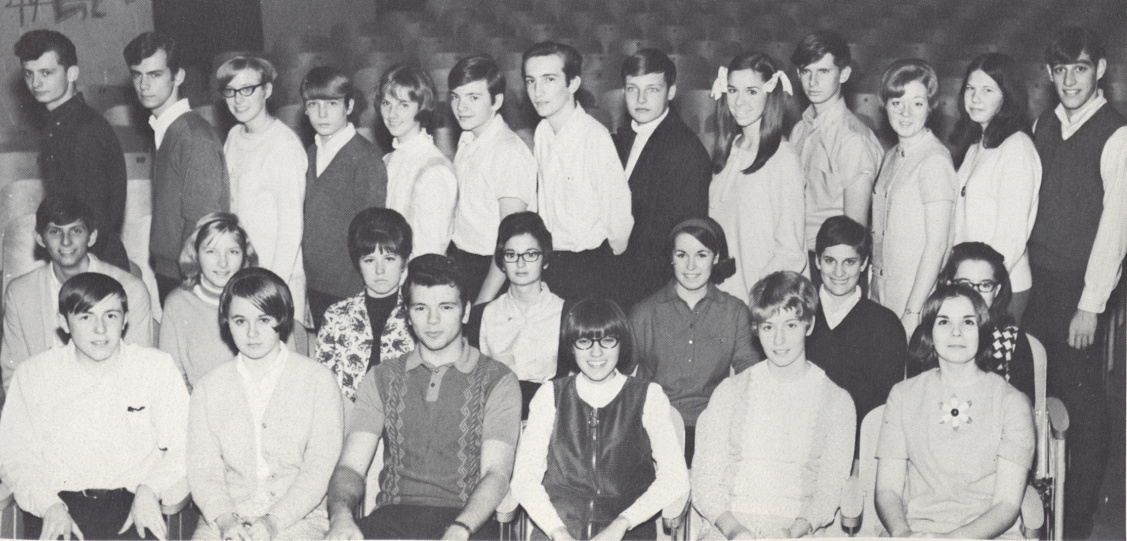 National Thespian Society: Row 1: Tom Ross, Recorder; Debbie Ruth, Secretary; Frank Mazocco, Pres.; Sherry Jastrzab, Treas.; Linda Rago, Historian; Marilyn Stone, Recorder. Row 2: Bill Conley, Vice Pres.; Jaci Perkins, Becky Bonnar, Sally Sumpter, Carol Bendell, Barb Smirniotis, Lynda Willer. Row 3: Brent Brinkman, Jack Weirs, Julie Gustafson, Dave Palenik, Barb Conley, Ron Relic, Martin Lane, John Link, Jeanne Mitchell, Don Jayne, Marlene Koster, Kathy Nelson, Jerry Fritz.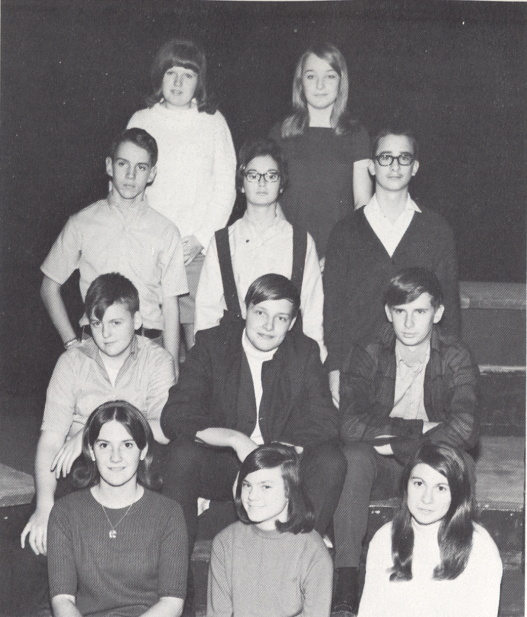 Stage Crew: Row 1: Chris Todd, Sally Gericke, Laurie Rappatta. Row 2: Dan Schaberg, John Link, Don Jayne, Stage Manager. Row 3: Mike Wagner, Sally Sumpter, Mike Baldershwiler. Row 4: Jo Ann Westerhoff, Evelyn Neier.
A successful musical, "Guys and Dolls", a winning play, "Rosencrantz and Guildenstern are Dead," and the annual tour are the normal activities of DC and NTS. Along with this, the clubs collected gifts to give to a hospital and went on field trips into Chicago to various first run movies. For the first time, DC had a follies act. They showed their skills in their version of the musical "Hair." The four day tour left many memories, such as, Pij and Fij in Edwardsville, the dance in Flora, and the confiscation of Mac Murphy.

Caption on p035:
AND ADVANCE TO A HIGHER POSITION IN NTS.