PEP CLUB - 1968 TFS Postscript Yearbook p118
Sports | Cheerleaders | Varsity Cheerleaders Individually | Pep Club Zoomed PDF | Lettermens Club | Girls' Athletic Association | G.A.A. continued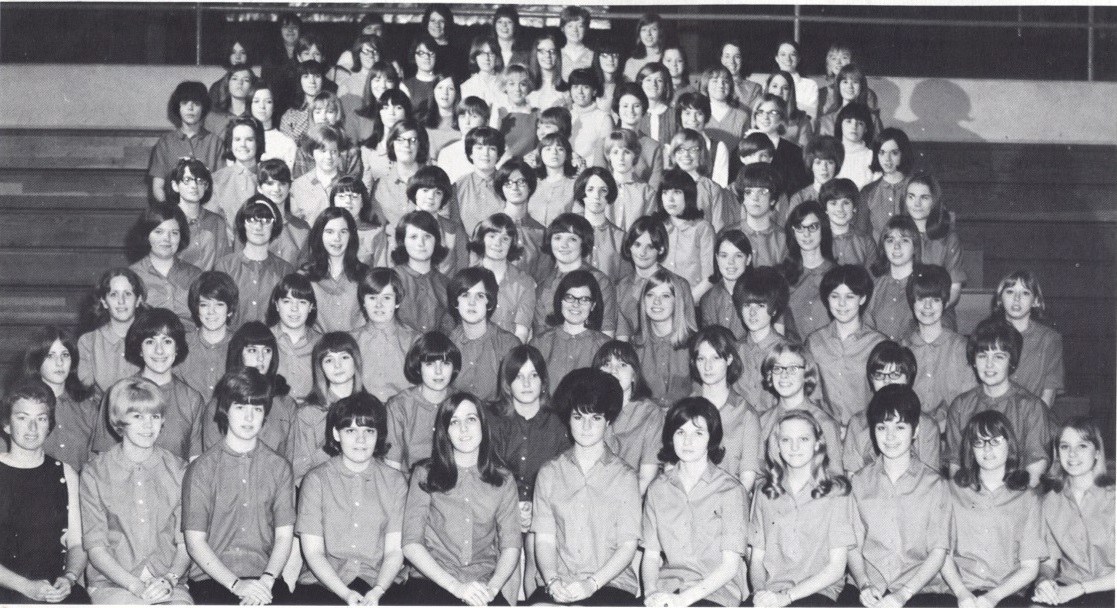 Row 1: Miss Rosenak, sponsor; Karen Biel, president; Margaret Vincent, secretary; Joan La Mar, treasurer; Joan DeBoer, Sandy Fritz, Linda Ross, Dorothy Cresenzi, Debbie Margrath, Joyce Yauger, Carol Deichen.
Row 2: Janet Rodda, Janet Baralli, Barbara Sans, Brenda Jabaay, Kathy Smith, Kathy Visnack, JoAnne Wilkerson, Roberta Porter, Laurel Smith, Ruth Ericson, Karen Kegebein.
Row 3: Bertha Rodda, Margie Ward, Jan Waugh, Beth Peters, Edith Lange, Marie Reid, Karen Anderson, Francine Fritz, Edith March, Lydia Jones, Kris Anderson.
Row 4: Linda Haines, Chris Todd, Kathy Nelson, Sue Myers, Liz Kersten, Pat Link, Janet Neumann, Debbie Higgins, Chris Loquist.
Row 5: Susan Brown, Joyce Yellina, Linda Wilier, Martha Reppen, Diane Davis, Rose Palenik, Pat Pomeroy, Carol Hammen, Debbie Novak, Barb Hildebrand.
Row 6: Jan Woolsey, Diane Lembke, Pam Neal, Nancy Rodda, Michelle Harding, Barb Beckman, Debbie Peterson, Carol Sommerfeld, Robin Tiltges, Kathy Archer.
Row 7: Karen Follmar, Jeanne Mitchell, Diane Galanis, Blanca Traveno, Linda Brennen, Cindee Wozniak, Donna Glad, Mary McCloskey, Chris Milliken, Rhonda Pauling.
Row 8. Maribeth Linquist, Pam Rach, Pam Miller, Kathy Kreps, Cindy Twardosz, LuAnn Knoezer, Joyce Scheidt, Carol Deichen, Diane Schultz, Karen Wall.
Row 9: Jodee Keller, Carol Bobic, Joan Maynard, Georgann Maroc, Nancy Usselman, Barb Higbee, Donna Traver, Melinda Stinnet, Debra Bauer, Kathy Baker. Linda Bauer.
Row 10: Kathy Orban, Cheryl Ridder, Diane Poffenberger, Karen Johnson, Marlene Koster, Janice Monaldi.
What cheers very loudly at all basketball games and wears a red blouse and a black skirt? The answer is any one of the numerous members of the club that is responsible for stirring up school spirit for the games—Pep Club. The cheering block, poster campaigns and team funnel are all part of getting that spirit up.