1969 Junior Varsity Band TFS Postscript Yearbook p054
P.E. Assistants | Varsity Band | More Varsity Band | Junior Varsity Band PDF | Cadet Band & Stage Band | Color Guard | Twirlers & VB Officers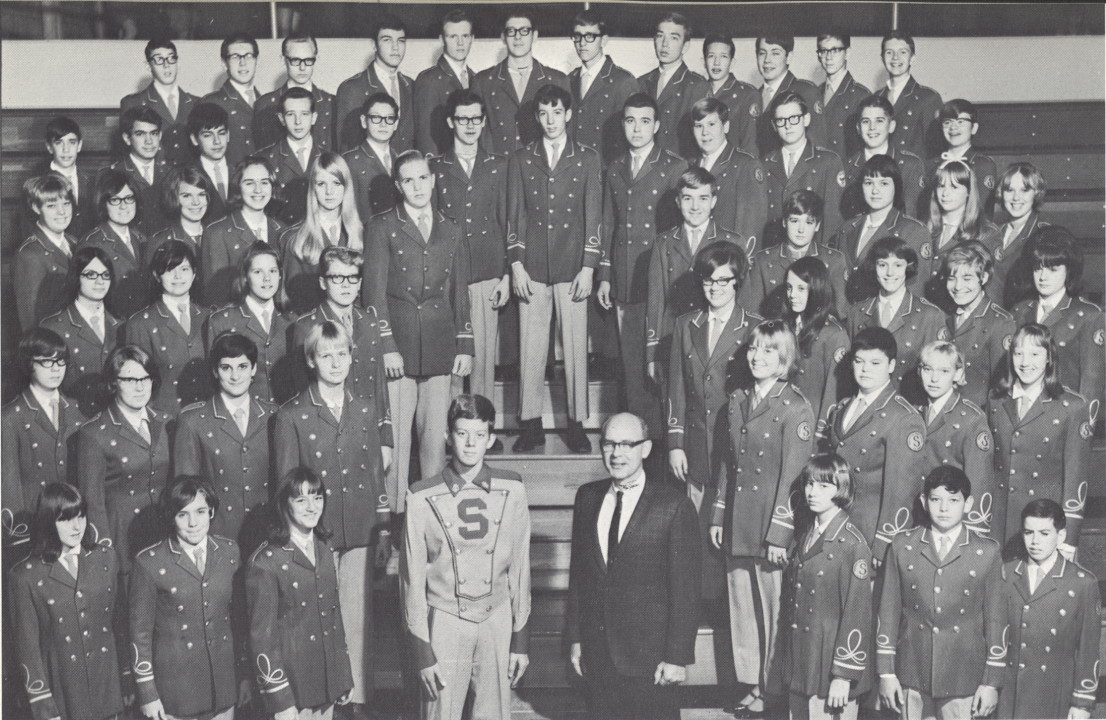 J.V. Band: First Row: Diane Miller, Elaine Danaher, Nancy Goranowski, Neal Haulght. Mr. Jack Wonnell, Barb Rossi, Gary Dugovich, Darryl Powell. Second Row: Sue Gramse, Francis Murray, Barb Smirnoitis, Ruth Evert, Melanie Frank, Tim Keelin, Dawn Kuipers, Kathy Hassig. Third Row: Janet Klawitter. Donna Zion, Terry Elman, Dave Nelson. Kathy Schmal, Charlette Kohut, Pat Humphrey, Kathy Vierk, Barb McDonald. Fourth Row: Karen Hansen, Sue Brown, Lydia Jones, Kathy Varga, Anna Vanderby, John Sterk, Ray Palus, Ray Cutler, Carol Sowa, Pat Iyles, Wanda Hickle. Fifth Row: Scott Gough, Allen Berglund. Paul McVickers. John Pozworski, Jim Adamczyk, Darryl Heiman, Duanne Hansen, Jayme Rice. Bill Hastings, Jim McKinley. Warren Grey, Fred Morgenthaler. Sixth Row: Bob Brown, Dave Krauszouski. Norman Williamson, Tim Koselke, Gary Rathbone, Mark Koenigs, Dave Enigenburg, Brad Mason, Dave Victor, Dave Gurnic. Gerry Wiers, Mike Wallace. more.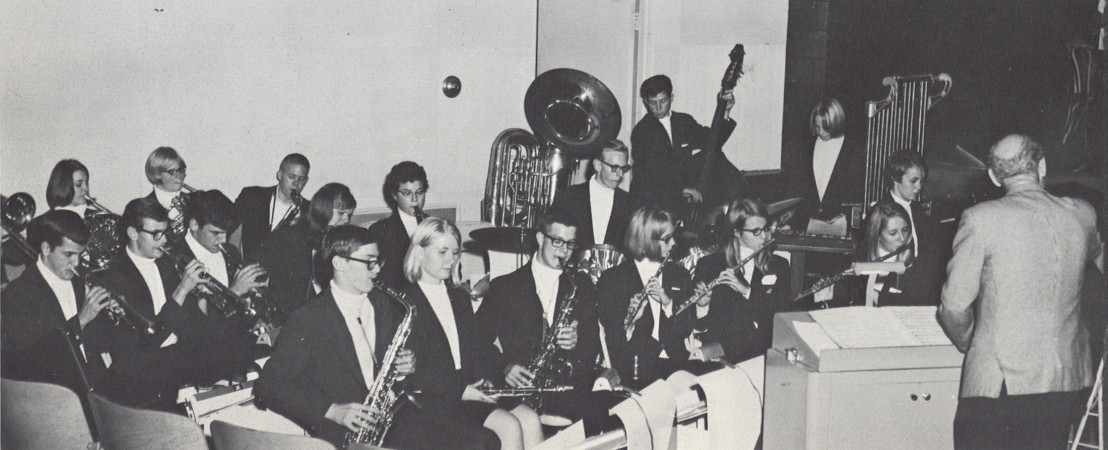 The Big Band sound has been recreated in the form of the Stage Band. Of the events of the year, the most important was the IHSA Stage Band contest. The band earned the usual second place rating and top honors went to the lead alto sax player, Ed Fouts. He was chosen best alto sax player of the day, an honor never won by any South bandsmen before.
Another Varsity Band offshoot is the Pit Band for the fall musical. This group, as seen below, differs from the stage band. The musical score is written for an orchestra and flutes are substituted for violins.