TERRAPIN CLUB - 1968 TFS Postscript
Lettermens Club | Girls' Athletic Association | G.A.A. Freshmen thru Juniors | Terrapin Club PDF | Faculty vs Redheads | Faculty Letterman's Club Game | And you can see why...

Terrapin Club boasts of being the only club at TF South that begins and ends the year with a big splash! The girls, who are able to perform basic swimming strokes, have the opportunity to learn new water ballet skills. Under the sponsorship of Mrs. Blackadder, they find time to "mess around" at the weekly meetings. The main activity of the year is the annual watershow a pageant of music, girls, color and a great deal of WATER.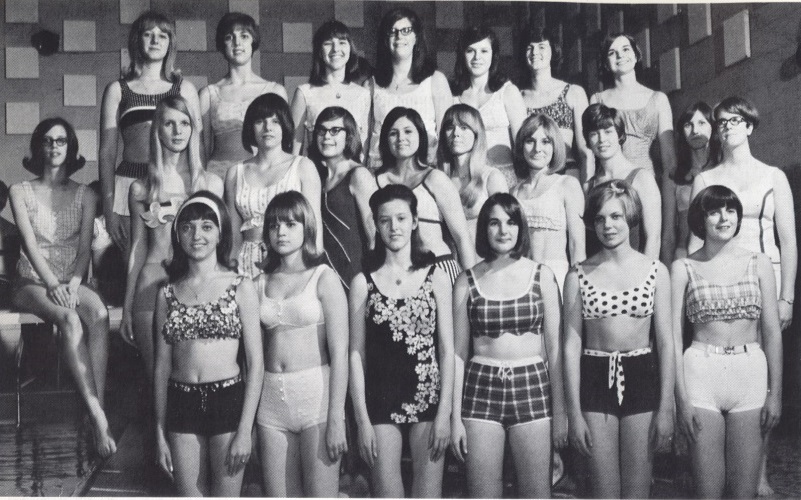 Row 1: Denise Troppman, Sheri Evans, Jeri Kazen, Belinda Love, Sue Bethman, Kathy Smith. Row 2: Bernadette Hanacek, Anna VanDerby, Sharon Oakley, Debbie Sowinski, Laurie McVicker, Judy Wrzesinski, Debbie Miller, Margaret Vincent, Arlene Johnson, Mary Ebbens. Row 3: Linda Krygier, Sue Schultz, Barbara Homans, Pam Neal, Alice Zorka, Shirley Goluska, Marilyn Stone.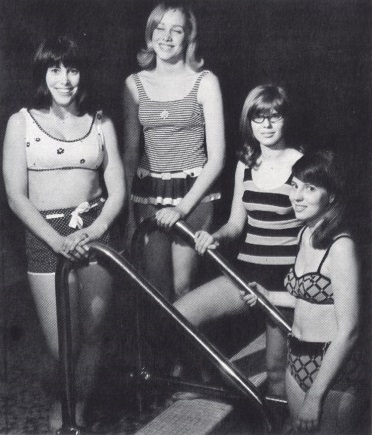 Officers: Left to right: Pat Pomeroy, President; Lynn Kortenhoven, Treasurer; Judi Morehouse, Activities Chairman; Madelyn Schumacher, Secretary; Not pictured: Mary Schumacher, Vice President.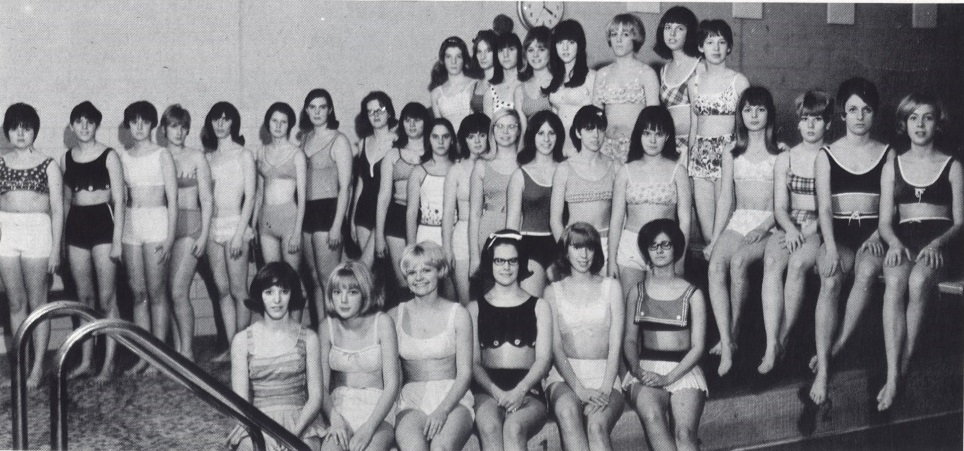 Row 1: Rosemary Sauer, Denise Beuster, Cindy Graham, Jan Woolsey, Linda Washburn, Diane Davis. Row 2: Ruth Erickson, Debbie Baricevish, Cindee Wozniak, Sally Steeb, Carol Washburn, Sandy Janson, Vivian Wahburn, Candy Kazen, Sherry Barker, Eileen Rossi, Martha Reppen, Wanda Poplawshi, Janet Rodda, Mary Ritsma, Regis Gillman. Row 3: Janice Martin, Bobbie Porter, Pam Rach, Carol Deichen, Cindy Busha, Cindy Twardosz, Jan Ambry, Barb Rossi, Brenda Jabaay, Cathy Schuur, Janice Fielder, Laurel Smith.