ROW 1
Donna Love
Kay Ogawa
Sue Sells
Nancy Goranowski
Judy Hargrove
Diane Miller
unknown
ROW 2
Gary Dugovich
Robin Anzelmo
Terri Ellman
Nancy King
Melanie Frank
Nancy Humphrey

ROW 3
Tim Keehn
Mark Lisneck
Paula Hinds
Rod Henle
Lydia Jones
Anna Lee
Mr. Wonnell

ROW 4
Joan McDonald
Larry DeMik
Tim Kelsven
Fred Morganthaler
Diane Hansen
Ken Siegfreid
Carla Spencer

ROW 5
Brad Mason
Bill Hastings
Mike Musial
Mike Wallace
John Sterk
Carol Victor

ROW 6
Gary Tempo
Gerrit Hasselbring
Paul Hasselbring
Randy Pawlowski
Rich Sauer
Mark Hasselbring
Mark Snider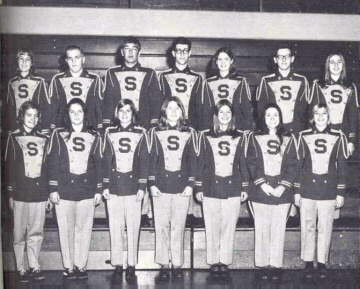 First row - Kathy Vierk, Historian; Marilyn Vickers, Uniforms; Terri Elman, Uniforms; Carol Shoka, Uniforms; Lydia Jones, Secretary; Nancy King, Color Guard; and Judy Hairgrove, Assistant Librarian. Second Row - Paula Hinds, Color Guard; John Sterk,Publicity; Brad Mason,Set-up Manager; Glen Cox, Assistant Set-up Manager; Joan McDonald, Color Guard; Jeff Hamblin, Librarian, Vice-President; and Kathy Varga, Color Guard.
[Thank you, Anna Lee, for your help with this page.]

---

The Varsity Band, under the direction of Mr. Jack Wonnell and Mr. Ernest Brandon, is the first team in instrumental music. This band represents T.F. South in parades, halftime shows, in concert, and contest. The Varsity Band tries to serve all the music needs of its school and community.
The band traveled to garden City, Michigan, a suburb of Detroit, for their annual tour. While there, the members visited the Ford Museum and greenfield Village. They also went into Canada for sightseeing and souvenirs.