JV and CADET BAND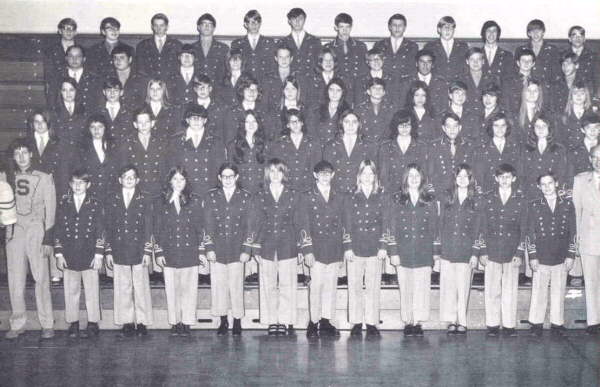 This page will automatically zoom in thirty seconds.
ROW 1
Greg Mizanin
Jim Kaszuba
Charles Schimpf
Pat Hanley
Ruth Jennings
Cheryl Zeldenrust
Kevin Kingma
Joan Bernard
Ellen Darlington
Kathy Walter
Paul Strassen
Steve Palmer
Mr. Wonnell
Jim
ROW 2
Charlyn Willoughby
Michelle Dugovich
Keith Morloch
Linda Sloan
Regina Hamilton
Love Breyfogle
Chrysse Rice
Lauren Hoge
Jim Klawitter
Claudia Wegryzn
Sandy Hansen
Marvin Derks

ROW 3
Patricia Wrice
Mark Schultz
Dawn Morgan
Doug Blocker
Becky Bakalyar
Susan Ewert
Ellen Day
John Young
Debbie Parrent
John Maurine
Barb Schuster
Jackie Johnson
Connie Zion

ROW 4
David Zadronzny
Mike Poswarski
Pat Elman
Cindy Swick
Corrie Frank
Sonia Swanson
Laura Varga
Jim Mendoza
Dave Ridder
Gary Steere
Steve Dobos

ROW 5
Larry Nelson
John Gvozdj
Jeff Mauck
Rick Davis
Lindsay Van..
Ed Reynold
Bruce Glen
Rich Jones
Tim Lee
Gary Shapiro
Lesley Vanderlee
John Spears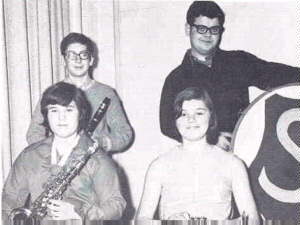 Cadet Band members are Susan Trinka, Sharon Miller, Steve Pollard, and Tony Valade.
Junior Varsity Band
&
Cadet Band
Most incoming Freshman instrumental students are scheduled into the Junior varsity Band for one year. Students are chosen from this band for the Varisty Band. JV Band members appear in one football halftime show and usually two concert appearances.
Cadet Band is the beginning band at T.T. South. This is the last chance for a student to start on a band instrument.
---
61

Page 62

63
Click any Photo to see it ENLARGED *with* face tagging (to see students' names merely by waving the mouse near the face)
Thumbs 61-80 | 1968 Index | 1969 Index | 1970 Index | 1971 (Home) | 1971 T-of-C