1970 T.F.S. Literary Arts
Guidance Off & Hall Mon and Stooges | General Off & Library Assist | Guidebook Staff & Rebel Rouser Staff | Literary Arts and Ferrum | Color Guard & Cadet Band | Junior Var Band | Var Band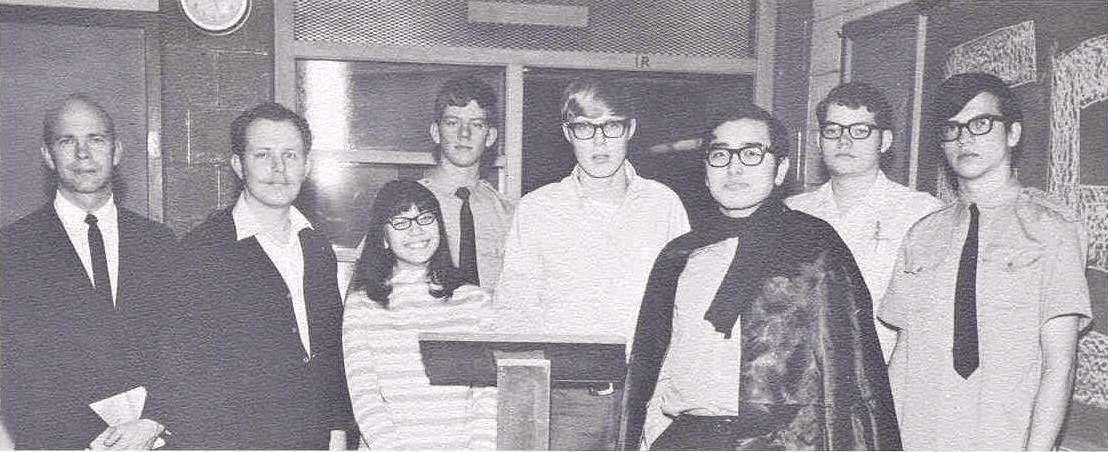 L.A.A.S. Officers: Mr. Dickinson, Sponsor; Mr. Chockley, Sponsor; Pat Schultz, Secretary; Neal Haught, Assistant Editor; Tom Poplawski, President; Ted Schultz, Vice President; Tom Gleim, Treasurer; Larry Peres, Sergeant-at-Arms.


Ferrum Staff: Tom Gleim, Tom Poplawski, Neal Haught, Assistant Editor;Ted Schultz, Editor; Mark Schumann.


L.A.A.S.: Sue Sheehan, Jan Wlezgray, Tony Serbenc, Mike Wallace, Debbie Watson, Mark Schumann, Marianne Kurt.

This is Page 53 of the Postscript © Yearbook of Thornton Fractional South High school in Lansing, IL during the 1969-1970 season.
1968 Index | 1969 Index | 1970 Index | 1971 (Home)