TFS 1970: DRAMATICS CLUB HAD A BUSY YEAR
1969 Homecoming Candidates | 1969 Homecoming Coronation | Communication Arts Organization | International Thespian Society | The Fantasticks | Experiment in Theater | Speech

Dramatics Club: Row 1: Joe Bieda, Clay Cutler, Lynn Ganz, Mike Burdelak, Ted Geis, Bob Paswinsky. Row 2: Denise Tubich, Renee Kmak, M. Gurley, Pat Berda, Sabena Ramanna, Sue Gramse, Kim Milazzo, Diane Watson, Pam Parker. Row 3: Pam Hastings, Shirley Greer, Karen Bloom, Kathy Stengel, Marsha Wojciehowski, S. Dale, Steve Fastabend, Judy Zebrauskas, Lorrie Ross, Joyce Horgeshimer, Pat Illo, Marcia King. Row 4: Lee Reagan, Nancy Wedenoja, Lynn Freeman, Mary Johnson, Diane Hansen, Cindy Hart, Sue Novak, Marty Berda, Karen Aurich, Pam Westerhoff, Sue Sheehan.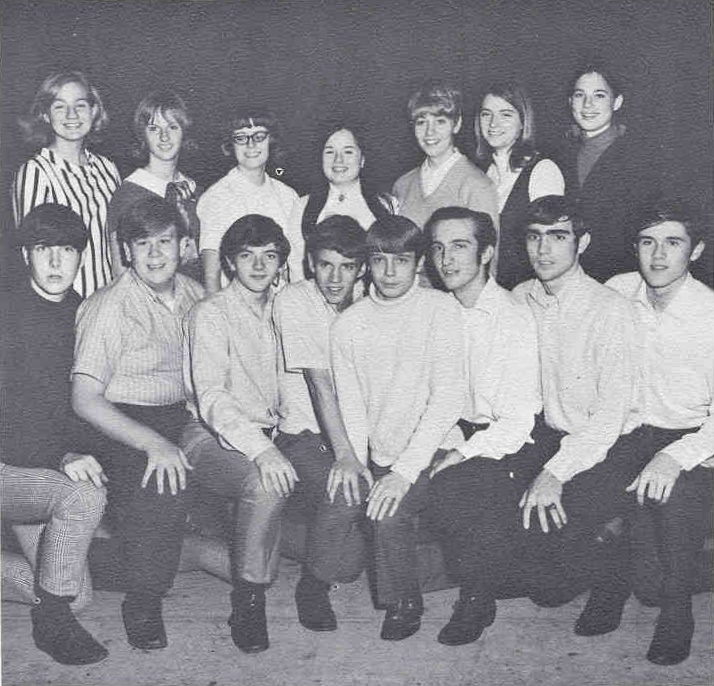 Row 1: Terry Brown, Bill Hastings, Ron Relic, Mike Wagner, Dave Palenik, Marty Lane, Don Riecss, Larry Fields. Row 2: Rosemary Boss, Barb Conley, Linda Piaskowy, Lynda Willer, Linda Rago, Jeanie Eddins, Julie Milliken.
I.T.S. Officers: Marcia Anderson, Recording Secretary; Kathy Johnson, Recording Secretary; Barb Smirniotis, Vice-President; Tom Ross, President; Debbie Watson, Historian; Sherry Jastrzab, Corresponding Secretary; Carol Bendell, Treasurer.
This is the Postscript © Yearbook of Thornton Fractional South High school in Lansing, IL during the 1969-1970 season.
1968 Index | 1969 Index | 1970 Index | 1971 (Home)